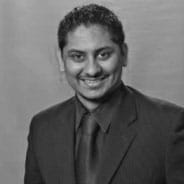 President & Chief Executive Officer
Brief info
As technology advances at a rapid pace, Jag Basrai remains a leader in the creation and implementation of technological solutions. Passionate about advancing the technology sector, Jag is currently the CEO of Blockchain Fortress; a leader in providing businesses with technological and blockchain solutions. Jag's impressive portfolio also includes founding and serving as the Director of Operations at SystemBind, a company providing cloud based solutions and high availability environments to meet the IT requirements of organizations, where he manages a senior team of it professionals and research team. Jag manages a number of projects and assists the R&D department in further evolving the product offering. Jag joins BRED as the President & CEO, applying his ample knowledge of Blockchain and Real Estate to pioneer a unique concept to public offerings and how real estate funds are managed.
Jag started his first company at the age of 20, and has successfully operated a number of companies throughout his career. From managing platforms used by a number of multi-billion dollar organizations, to designing and managing payment processing platforms that transact millions of dollars per day, his accomplishments speak for themselves.
Jag, a serial entrepreneur, builds teams of smart innovative individuals looking to grow start ups from a vision to reality. A tech enthusiast, crypto investor, trader and miner, Jag has been mining and trading crypto currencies since 2013. Currently, Jag is in the process of setting up one of the first tokenized publicly listed offerings in the world, bringing the real estate space into the 21st century utilizing blockchain technology.
Additionally, Jag displays an interest in the real estate sector, holding a variety of assets globally. Jag grows his real estate portfolio through both residential and commercial assets for passive income and appreciation. Utilizing KPI's, analytics and acquiring assets at optimal times has enabled Jag to acquire assets in Canada, India, United Kingdom and the United States in a minimal period of time. Jag brings his impressive background of technology, blockchain and real estate to the BRED team, providing the innovation and leadership needed to stay relevant in a changing space.
Jag comes from a loving family, and enjoys being a father to three young children. In Jag's spare time he enjoys mentoring the next generation of young IT enthusiasts and young entrepreneurs.